All news
April 12, 2023
Last chance: Register to join our Taipei workshop online Focus, Projects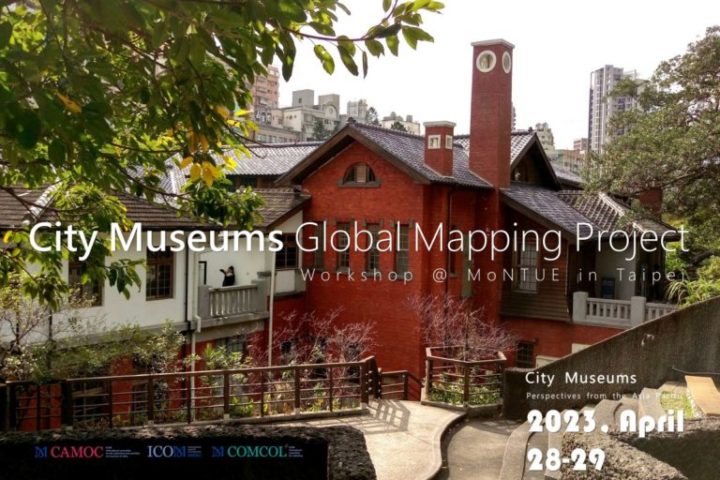 City Museums Global Mapping Project
How will you speak up for city museums?
Registration for Taipei Workshop
Don't miss out to join the Taipei Workshop online!
In 2020, CAMOC launched the City Museums Global Mapping Project, a special project focused on understanding the evolution of city museums worldwide. Together with partners ASPAC, COMCOL and NTUE, we are collecting data about where city museums exist, what they are doing, and how they see their role. 
We are pleased to announce that CAMOC is holding a workshop in Taipei as part of the project. This workshop with hybrid format entitled City Museums: Perspectives from Asia Pacific, will explore both the physical and conceptual territory of city museums. Participants will strengthen connections with fellow professionals in the region by contributing to an intellectual map of what city museums do. 
The workshop will consist of a keynote, presentation of the survey findings, interactive sessions on city museum practices and possibilities, excursion to explore the changing practice of prominent museums from across the host region.
Check the latest workshop program.
Important information
Language: English
Format: on site + online
Max. participants: 30 onsite + 50 online
Registration fee: Free to register
Registration deadline: 25 April
If you have questions about the workshop, please reach out to Chun-ni (Jenny) Chiu at EMAIL camoc.citymuseum.gm.taipei@gmail.com 
We want to hear from you! Your participation will help in our survey, and is crucial in ensuring your museum features on the City Museums Digital Map. Your voice will help paint a picture of the evolution of city museums worldwide. The survey has been translated into 12 languages.
Find your preferred language and take the survey.
---
Special optional excursion (for on-site participants) – 2-3 May
We're pleased to announce an addition to the Taipei City Museums Global Mapping Workshop — a special optional excursion to explore Singapore museums on 2-3 May. ICOM-Singapore and the National Heritage Board have generously prepared an itinerary of places that tell the stories of the city's diverse communities, including Kampong Gelan neighborhood, the Indian Heritage Centre, Sun Yat Sen Nanyang Memorial Hall, the newly reopened Peranakan Museum, and more.
For information on how to take part, email Chun-ni (Jenny) Chiu at EMAIL: camoc.citymuseum.gm.taipei@gmail.com